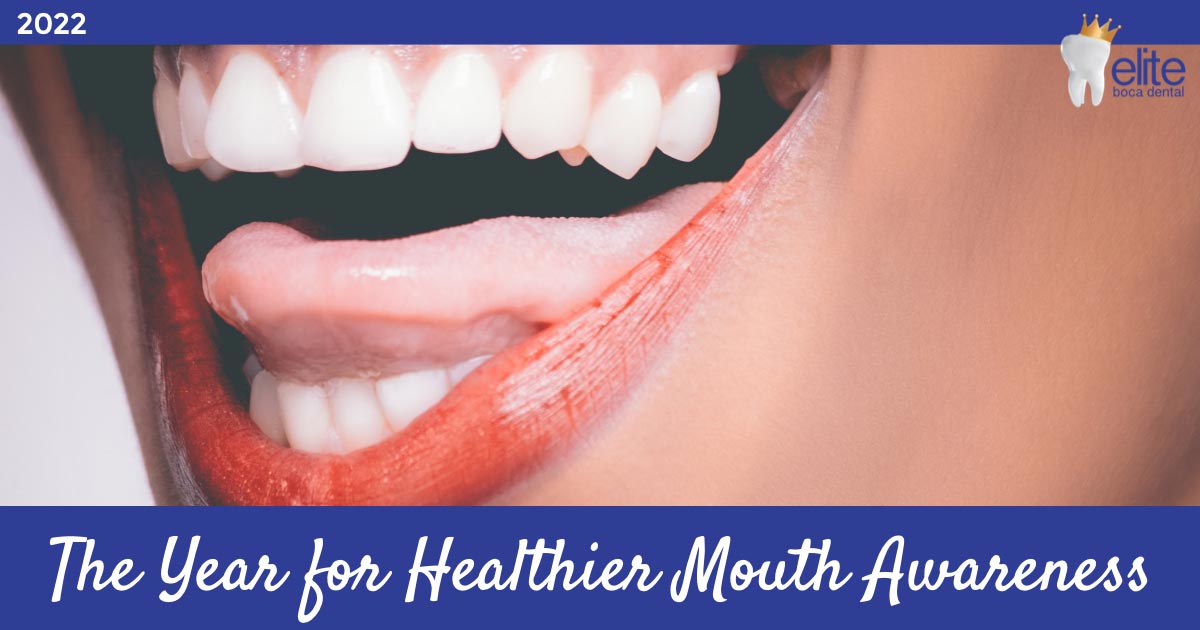 Healthier Mouth Awareness in 2022
By this time of year, new year's resolutions have already fallen by the wayside. This year, the one resolution you should keep is a renewed awareness of your oral health and working towards a healthier mouth.
We underestimate what we put in our mouths and how that affects our overall health. We think wellness is all about losing weight and getting fit and underestimating the importance of oral health in the bigger picture.
Of course, we need to ensure that we maintain our overall health. If we did not know our average temperature, we sure do now, as Covid-19 has increased our daily awareness of how we feel.
Nearly 47,2% of adults over 30 suffer from some form of periodontal disease, and the center for disease control estimates that this increases to 70,1% in adults over 70.
So how do we prevent, manage and repair the damage we cause every day?
Book your very overdue dental exam
Never on the top of the list of phone calls to make, but booking your dental check-up appointment should be a priority. Many of us tend to put it off for reasons that may include fear, anxiety, or in most cases, over the last two years, covid as an excuse to stay away.
We tend not to see our dentist until something is wrong or the pain is so unbearable that we are left with no choice but to see our dentist.
Flossing is important
It is critical to remove any food or biofilm left between your teeth. How you choose to remove it is up to you. The traditional means of flossing with tape or newer options include water flossers or dental brushes. Whatever your choice, ensure you do it every day.
Brush to a timer
We have been nagged to wash our hands for a specific time, but brushing our teeth should not be less than two minutes, twice per day. The longer you leave leftover food on your teeth, the more damaging they can be. So ensure you use a timer, watch the clock, or use an electric toothbrush with a built-in timer to help.
Focus on how you are brushing
Avoid being distracted when you are brushing your teeth. It is not the time to be catching up on social media, but rather focus on technique. If you are more aware of what you are doing, you can possibly pick up pending issues, just with how your teeth respond to certain pressure and angles of your brushing. Electric toothbrushes are great to ensure you are getting each tooth but focus on getting close to the gums as well.
Don't forget about brushing your tongue
Your tongue is as much as your mouth as you can get. Lots of bacteria form on the top, and you may not even notice the build-up. If you have a white tongue, you need to spend some time brushing all the gunk off it. It should be a bright pink color. You will notice an immediate difference in how your food tastes and improve your breath.
Get a new toothbrush often
Your toothbrush should not be like your favorite pair of sneakers. You will feel an immediate difference in efficacy and how it removes the dirt build-up on your teeth and tongue. Once the bristles start to wear and not stand up straight, it is time to bin it and get a new one.
Make 2022 the year you are proactive about your dental health and prevent possible issues before they arise.
As your dental health professionals, your well-being is important to us. We are here to assist in your "healthier mouth awareness". Feel free to reach out and call the office should you have any concerns or questions on 561-482-7008.
Stay Up To Date, Follow us on Social Media.
Share This Story, Choose Your Platform!
Experience America's biggest military appreciation event, where businesses across the country come together on a specific day to express their gratitude.